OK, here's the ONE Xmas present I knitted this year – but it is darned cute. It's a double-knitted teddy bear from the book "Knitter's Stash". The book's been around a while, but I don't actually own it (the library does, though!) so this is only the second thing I've knit out of it.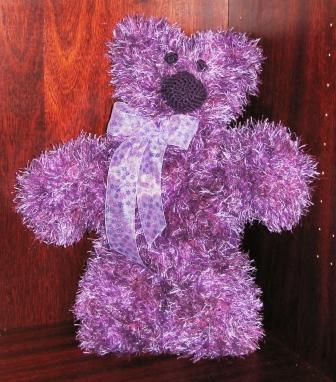 The teddy bear is actually a very slick piece of design work. Usually in double knitting, in order to get a tube of stockinette st, you have to
** K1, then slip 1 with yarn in front **
which requires a yarn position change on every st and is a bit slow at best (for Continental knitters) and a complete headache at worst (for throwers).
However, this bear is double-knit in reverse stockinette st – which means the purl side is on the outside – which means all you have to do is
** K1, then slip 1 with yarn in back **
or in fewer words:
** K1, slip 1 ** merrily along, with no yarn position changes!
While I generally am considered to be a fast knitter, even I was a bit surprised at how fast this bear went. I started it late on a Sunday afternoon and it was completely knitted by Weds. And I don't knit 24/7 by any means.
The original pattern used a single strand of shiny fake fur yarn. I combined a strand of shiny fake fur with a strand of a fuzzier yarn, for a cuddlier fabric. I bumped up to US size 11 needles, and I used up very nearly the entire ball of the second yarn (= 96 yards). I wound up with a 16-inch-tall bear.
The other big thing the reverse stockinette buys you here is more of the fur stays on the outside. Any time you are working with fur, sequins, fuzz, or what-have-you, the tendency is for the texture to remain on the purl side of the fabric, because (in engineering terms) it requires you to put more energy into the system to drag it on through to the knit side. This often translates to picking sequins through to the right side, one freakin' sequin at a time. But since this bear is inside-out, as it were, the fur tends to naturally remain on the outside. What genius!
The only thing I dislike is the title of the pattern: "Magic Friends". I have a personal peeve about the use of the word "magic" to describe things in knitting. It ain't magic, folks, and it's not even rocket science. It is very clever, though.
The bear is for a 1-year-old, so I made the facial features by crocheting directly on the bear's head, and I also glued on the bow.
---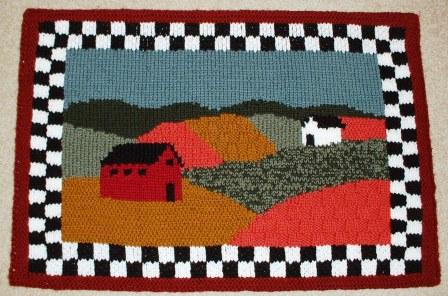 The other FO I have done from this book was an Xmas gift for Sandi, the owner of Farmhouse Knit Shop. (I hope need not explain why the "Farmhouse Rug" was an obvious choice.) This was knit several years ago now, for Xmas 2004, in Mission Falls 1824 wool (doubled).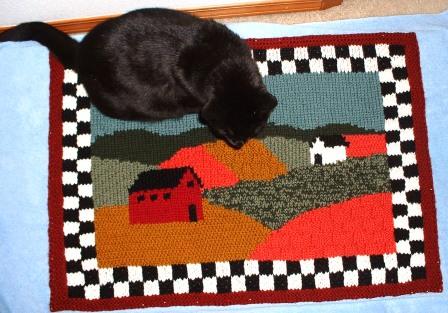 Morgan was quite interested in the blocking process. I included him partly because I love my cat more than just about anything (even MOHAIR), and partly for scale. Morgan is a big cat: he's about 2 feet long from head to butt (not including tail). It's a good-sized rug, folks! It has to be around 3 feet wide.
Yes, I am rather proud of the back of it, thank you. That's a double thickness of heavy-weight canvas fabric, fused together, and hand-sewn all the freakin' way around. It was a bitch to sew, I can tell you.
Apparently I took the picture of the rug front being blocked in mid-November, and didn't get the picture of the back taken until mid-December. As I recall, there was a distinct lack of information about how to back a hand-knit rug; I found this technique in an old library book on rug-making.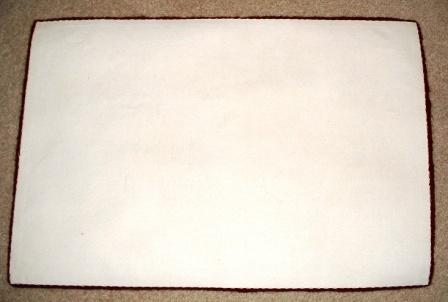 I am also rather proud of the selvedges. I was smart enough to work a crochet provisional cast-on, and chain selvedges up the sides – which techniques mimic the look of a standard bound-off edge – so all 4 edges match. AND I was smart enough to think of it before I got halfway through!
The one issue I had was with the rust-colored garter st border. It's not terribly obvious from the way they charted it, but that's supposed to be PURLED garter st. Turns out it doesn't really matter until you get to the top edge, and find out that first row of the top rust border is a WS row, and it has to be purled, or else you wind up with a lot of colorful blue sky purl bumps on the RS across the top. (I bet I know what you're thinking, and you're wrong. You can't just work an extra row of sky. See that black-and-white checked border? Very geometric. Five rows each block, I believe.)
My solution was to rip back a few rows (very few) and insert one row of reverse stockinette in the border – in other words, purl one row of the border on a RS row – to switch the border from knits to purls. Reverse stockinette looks an awful lot like garter, and while I know where the switch occurs, I suspect it would take a while for anyone else to find it if they knew about it. Partly because you can't take the easy way out and look at the WS to find the row of stockinette, because of that fabulous backing. (HINT: it's not terribly far down from that first full rust-colored row, where I started swearing.)
Would it have killed them to put a one-line note at the beginning of the pattern? Oh, BTW, you'll need to purl that garter st border, not knit it. Happy Holidays.