CONTACT INFO
---
ABOUT ME
Aaaand a few more bits of trivia -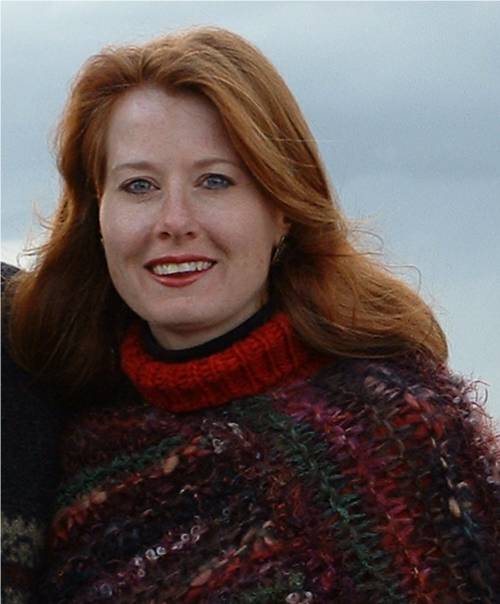 I've been knitting for 20+ years and crocheting for 30+.
My favorite colors are green and red, but my (not-so-secret) real favorite color is pink.
Yes, I'm a natural redhead. That, plus the previous fun fact, results in a life full of subtle wardrobe-related frustration. In my next life, I will be either a platinum blond bombshell or a raven-haired temptress.
Here I am, happily wearing handknit sweater, poncho, and socks (not shown).
My absolute favorite fiber is MOHAIR.
I am a sucker for sequins, glitter, satin, tulle, fringe, marabou, and anything else tacky sassy or gaudy eye-catching.
I have 2 cats, 2 dogs and one husband, which is plenty for me to take care of. In fact, my DH says I am really a cat, because I like to sleep and play with yarn. (This is OK, because I like cats, and that fur coat thing wouldn't be too bad, either.)
Other accomplishments:
Grew up in Iowa – until 1987
Tried to learn to knit – 1975
Learned to crochet – 1976
Learned to knit (again) – 1986
Earned engineering degree in Colorado – 1987-1992
Got job in Texas – 1993-2000
Got married to DH – since 1997
Moved to Oregon for DH's job – since 2000
Quit engineering career, teaching knitting & writing patterns – since 2004
Read more about my entire knitting life & history in the "It's All About Me" category…