So, you may have noticed that in the previous post, I said that my sister was knitting a sweater for her fiance.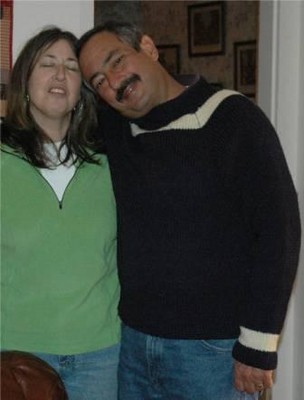 YIKES! but what about the famous, infamous Sweater Curse?
I didn't know about the Sweater Curse then: I was only 6, after all. The Curse didn't work on her though, because my sister did get married that next April, 1975. And thirty-plus years later, Bets & Mark are still married, he still has the sweater, and it still fits. I finally got to see it again, on the occasion of the wedding of their eldest daughter. A navy-blue, top-down raglan – thankfully, it was in a nice wool.
(I admit to having been worried that it might have been in some nasty synthetic something. It was the 70′s, after all.)

Conversely, and it seems to me rather unfairly, I personally lived and knitted the sweater curse THREE FREAKIN' TIMES before wising up. Three fabulous VK sweaters wasted upon S. L., J. B. P., and R. M. And I do not have a single one of those sweaters any more. The pictures are from the original VK mags.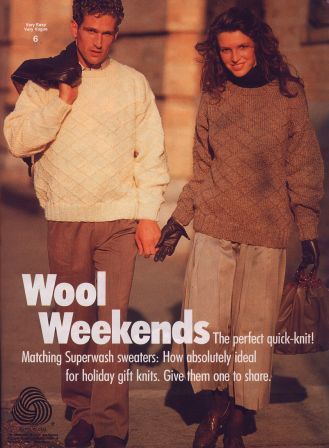 1: from Vogue Knitting, Holiday '87
S. L. got away with his. After this first mistake, I figured out that, after all that work, keeping the damned thing was a good move (the sweater, not the goofball D & D role-playing boyfriend).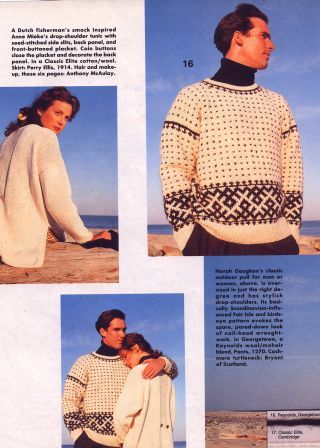 2: also from Vogue Knitting, Holiday '87
I have to admit, I can't remember what eventually happened to the one I made for J. B. P. I kept it for a while, but probably it went to Goodwill in the end. This was one of my first attempts at Fair Isle, and it was pretty good, except for the one row of "lus" right smack across the chest which was a bit on the tight side.


3: from Vogue Knitting, Holiday '88 (I branched out a smidge)
(Is it me, or does this sweater REALLY look like a chain link fence?)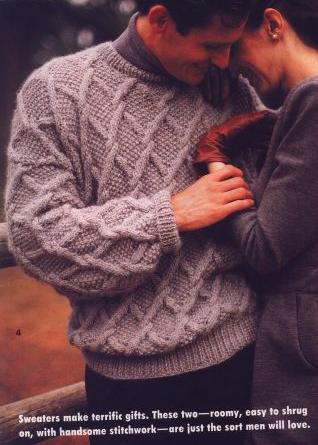 The one for R. M. didn't even get finished before the Curse took its toll, and it sent me into a knitting drought of about 5 years.
Part of the reason for this was that I graduated from engineering school, and took a job in Tex-ass, which is not known as a place where there is a need for warm, wool sweaters.
(That was also part of the reason we broke up, BTW. He was living in Spokane, and wanted to move back to Ohio. Let me repeat that: he WANTED to move back to OHIO.)
I eventually finished the sweater though, with the goal of entering it in the Texas State Fair. I got third place, too. And I ended up giving that sweater away to a co-worker.

You may have noticed that all these photos show happy, beautiful couples, head over heels in love, wearing lovely handknit sweaters. Guess what? They are being paid to look like that. Not that I'm bitter, or anything.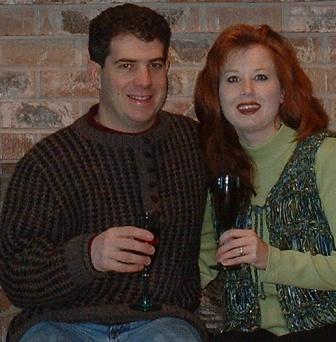 I finally knitted a sweater for DH, after 5 years of marriage – that was 5 years ago and so far, so good. It's a version of "Jay's Silk Pullover" out of "Simply Beautiful Sweaters for Men" by the gals at Tricoter.
(Hmmm… This garment is not a VK sweater, so maybe that has something to do with it.)
Mind you, he doesn't wear it often – it is wool, knit in a garter tweed, so it's rather thick fabric and darned warm.
So, now he gets socks. Occasionally.