I love, love, LOVE old knitting books. Old VKs are a fave, but I'll thumb through just about anything. (And I have the overflowing bookshelf in my studio to prove it.)
Often you can find a stitch pattern, a silhouette, or a detail that will spark an idea.  Also, looking at vintage styles is a great way to train your eye to distinguish between short-lived trends and enduring classics. Like most hand-knitters, I don't want to knit a sweater that will be out of style next year. After all that work, I want something that will be wearable for a while. If you can open a 40-year-old book and spot something that still looks good, you have a pretty good idea that it will look good for another 40 years!
A great example:  Here is a modern ad for an outfit that includes a skimpy little vest, and a pattern from a vintage 1960's Spinnerin pattern book.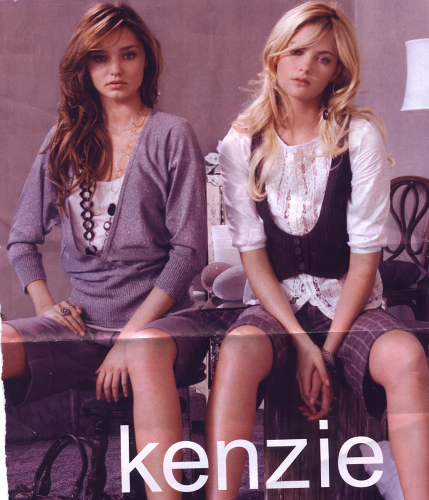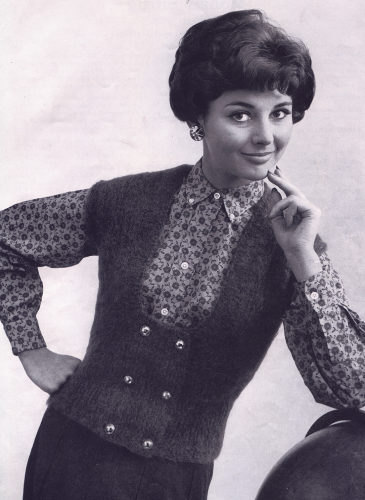 And here is my version.  A little retro looking – which I like – and wearable now, as it was in the 60's.
Vogue Knitting used to have a feature in every issue called "Then & Now", which to me was one of the best things in the magazine. They would take an old style from a vintage issue, and make up a modern version, using current yarns and colors. Occasionally they modified the fit a bit, but mostly the copy was true to the original.  For whatever reason, though, they phased it out: it became hit-or-miss in the mid-to-late nineties, and by now has died out completely.
The "Then & Now" feature worked mainly because, as we all know, fashion is cyclical.  But why do some garments work so well the second, or even third, time around?  Two reasons.
One:  There are simply a limited number of options for constructing wearable clothing.  For example, there are only a few styles of neckline.  Round and V-neck are the two main ones, but there are also square, bateau, keyhole or placket, and Grecian necklines.  And that's really it.  Same goes for sleeves and body shapes.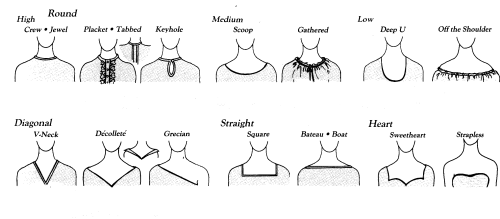 (Image adapted from Flatter Your Figure, an out-of-print sewing book that I highly recommend not just to sew-ers, but to anyone interested in learning more about style and choosing flattering clothing.)
Two:  Classic styles often remain classic because they flatter a wide variety of bodies.  A long, deep-V neck sweater (as in the ad above) is a classic style because it looks good on lots of people.  The V-neck draws the eye up and down, and can be accessorized in a number of ways.
My MIL used to say, "Never knit a plain sweater," because you can always buy a plain sweater.  But for a hand-knitted garment you can wear for literally decades, choose neutral (or flattering) colors, and classic silhouettes.