Every so often, of course, the subject comes up. Why (the expletive) would anyone HAND-KNIT a pair of socks?
One year, at my family reunion, I presented one of my brothers with a pair of obviously hand-knit socks, in his all-time favorite color – dark purple.
(Where, you ask, did I get dark purple sock yarn? Funny story. I called up Tina of [Blue Moon Fiber Arts->], and asked her if she could custom-dye me some yarn.

I told her I wanted something like "Amethyst," which was a combination of purple tints — only I wanted it in darker, more manly shades.

She said, "Well, I have a couple of skeins of Amethyst here that I overdyed with eggplant." I said, "Let me get this straight. I call you up asking for a custom order and YOU'VE ALREADY DONE IT??")
Anyway, someone in the family asked how many yards of yarn are in a pair of socks. I told them, "A couple hundred." Aghast, the brother who had been gifted with said socks yelped, "And you knit EVERY INCH OF THAT?"
Well, where else was I going to get him purple socks? I ask you. From what I understand, though, now he won't wear them as they are "too good." [update January '08: Brother reports having worn them twice. With high-tops. Sigh.]
---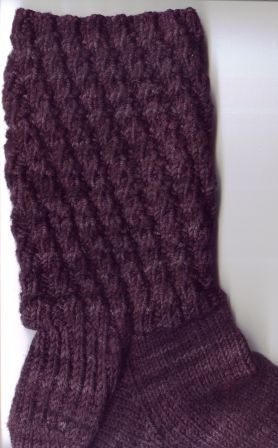 Fortunately, my husband grew up with a mother who knits, so he has no such reservations.
A few years ago, his mom wanted to knit him a pair of socks, so at my suggestion she made him a pair in the BMFA "Jasper" colorway. I felt this killed two birds with one stone, as these socks would replace a commercial cordovan-colored pair that my husband had worn to death, and that I had not been able to find a replacement for.
He wore his mother's socks so often that I started to feel threatened (note: I have since had to re-knit both toes, and had to get MIL to send me the leftover yarn to do it with) — so I figured I'd better make him a few pairs myself.
I started with Socks That Rock in charcoal and made a lovely pair in a mock-cable pattern that pretty much put me off knitting socks for him for a while. Not only is charcoal yarn at sock gauge hard to see, but the rows of mock cable rib were rather hard to count. Here is a scan, although don't say I didn't warn you that it is hard to see.
Mock cable pattern = work in 2 x 2 rib. Every 4-6 rows, move the rib pattern over by one st so it "stair-steps".
I've made a couple of other pairs for him: a fairly plain pair in heavyweight STR in "Lagoon" — which he must be wearing today, because I can't find them — and one in Colinette Jitterbug.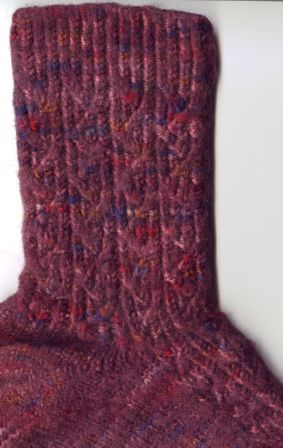 This pair was a bear, too, because of the funky Japanese twisted st pattern. Very handsome, I think, but not exactly a piece of cake to knit. The pattern didn't show up all that well in the variegated yarn to begin with. And most unfortunately, they have become rather fuzzy after many trips through the laundry.
To be honest, I don't really dig hand-knit socks that much for myself. I have around 8-10 pairs (two pairs of which were made for me by my MIL – which was a lovely gift, because it seems to be a rare thing for someone to knit anything for a knitter). But I mostly wear them to sleep in. Generally, it seems to me, socks are not really a sassy piece of clothing.
But the other night, Don came home from work and plopped down in the other chair in the office, while I was sitting at the computer. He had the Colinette socks on. Out of nowhere, he announced that these were his very favorite socks and they fit perfectly and they feel great and he loves them.
Ah, yes, THAT's why I knit socks.