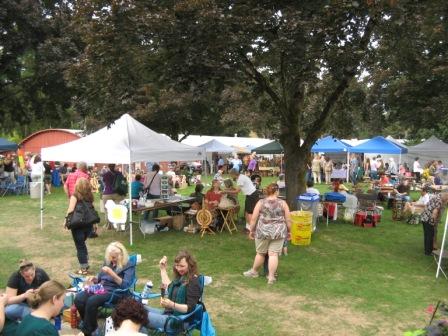 Well, it's been a solid six weeks since the Oregon Flock and Fiber Festival, and I haven't filed a report.
This is mainly because it ended up being kind of a disappointing day for me: I had intended to go with several friends, but instead, I spent Saturday morning at the vet with Morgan the cat, who had a UTI and needed some antibiotics.
By the time I was headed to Canby, my friends were headed back home. I half considered not going at all, but the idea of missing my first Flock and Fiber Festival in a decade was even MORE disappointing. So I went all by myself. Of course it wasn't as much fun as going with my friends, but I still enjoyed the Festival, and I did eventually find a few things to buy!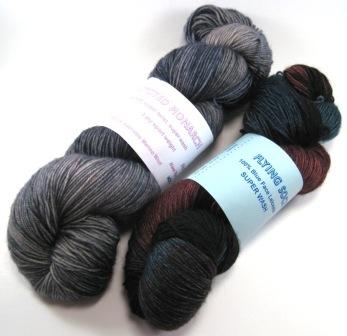 I'm the sort of person who prefers to walk around the whole place looking, before buying anything. After scouting out all the shopping, I went back to the Fly Designs booth, and chose a couple of skeins of sock yarn for DH. Several years ago I was told (by someone who probably would know) that the base yarn they use for their sock yarn is the same yarn that is used for Socks That Rock. I haven't done a side by side comparison or anything, but I have used the Monarch yarn for a previous pair of socks for DH, and they came out very nicely. This time around, I bought one skein of Fly-Dyed Monarch, which is 100% Merino, and one skein of the Flying Sock, which is 100% Blue Face Leicester. Both are superwash of course. I got the Monarch in color "Stonewashed" and the Flying Sock in color "Woodland". DH has approved both choices.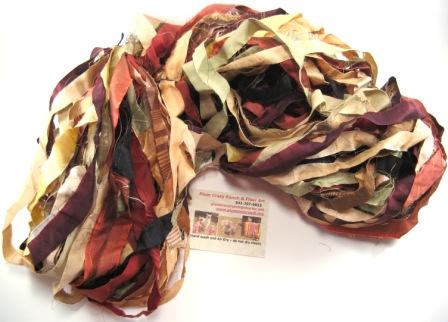 The other yarn I decided to buy was from Plum Crazy Ranch and Fiber Art — remember the girliest yarn ever, from two years ago? The pink mohair yarn? With the pink polka-dotted FEATHERS? Well, I have to admit this year's purchase was not quite as dramatic as that, but I have a funny feeling I might find a use for this "yarn" before I figure out what to do with the feathers!
This ribbon yarn is made of silk pieces sewn together, and it appears to be reclaimed or recycled from somewhere. As-is, it would knit up to a fairly hefty gauge, but the seller pointed out that it could be cut in half lengthwise if I wanted to use it at a lighter gauge.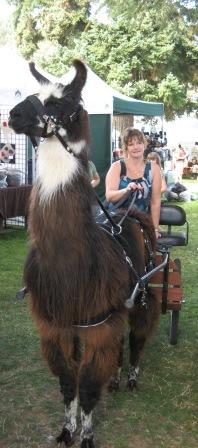 That would probably be pretty tedious, but at the time it sold me!
Since I was all by my lonesome, and it was getting pretty late in the afternoon, I ended up skipping the animal barns. However, I did run into this handsome fellow just outside the Plum Crazy booth — almost literally!
I also took a trip through the upstairs area, where there were many wonderful pieces of art and craft on display. I found this needle-felted bird mobile (by N. Skakel) very impressive. It was difficult to get a good picture, due to the lighting, but the details on these birds were just amazing!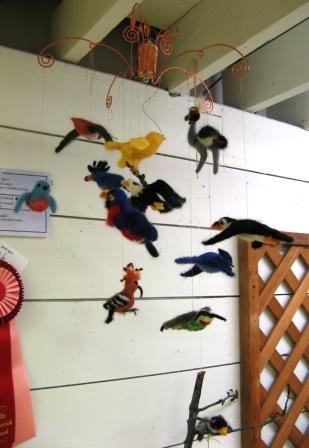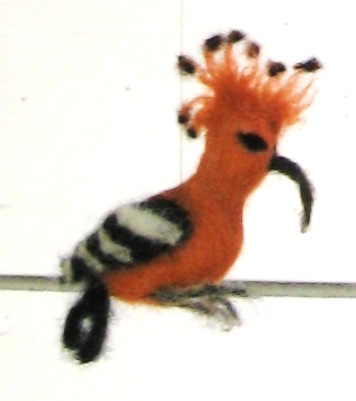 As usual, the Oregon Flock and fiber festival was well worth attending, even if I didn't get to go with my pals. But, there's always next year!