Table of contents for Nutcracker Sweet
Nutcracker Sweet, Part 2 – more yarn subs & gauge
So, after a second trip to the LYS, here's what the yarn collection looks like. The Rowan "kid classic" is in the middle, flanked by all the Berroco "Ultra Alpaca" and some Nashua "Kid Mohair" on the bottom and the left. (The printed color swatches of the Cascade 220 used in the original design are also shown in the picture, sort of.)
Big change: I've decided to replace the rose pink in the original design with a paler pink MOHAIR, which accomplishes a couple of things. As mentioned before, rose pink isn't so flattering to this redhead, but pale pink is OK as long as it's a warm pink; and it ties in with the salmon MOHAIR. It makes it more appealing to me, anyway, which is what matters.
Also, the khaki/sage/taupe color has been replaced by more of a brown.
Admittedly, these two color changes are also changes in value, and thus will need to be further evaluated when I swatch the Fair Isle chart.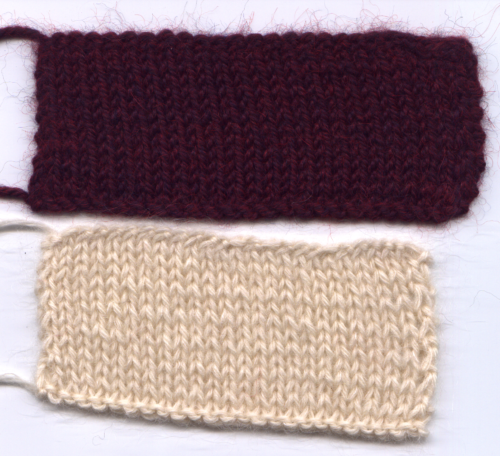 Unfortunately, it looks like the Rowan "kid classic" isn't going to work so well with the Ultra Alpaca. The Gauge Gods appear to be against this idea. (I believe the deities in charge of gauge are masculine in nature, since it is such a troublesome subject.)
Same knitter, same needles, same number of stitches, same evening – rather different widths.
The kid classic is not as heavy as the Ultra Alpaca, and it works up quite a bit looser. This swatch particularly shows that my knits and purls are not the same size (a phenomenon referred to as "rowing out"). See the way every other row looks a little pouffy?  This shows up more when the fabric is too loose.
So, once more into the breach – one more trip to the LYS.  Fortunately I teach there, and can merge all these trips with teaching duties!
The Rowan yarn has been exchanged for more Ultra Alpaca in off-white. One color is still lacking: I'm going to have to get them to order a color called "Couscous" which Berroco very kindly added to the Ultra Alpaca line recently, just in time for me to knit this sweater.
Changing from Cascade 220 to Ultra Alpaca – do I know how to jack up the price of a sweater, or what?
Yes, I am very picky about my yarns and colors. More often than not, I've found (and always to my dismay) that the decisions made at the start of a project are the make-or-break point. I've made all the mistakes, too many times before, to skimp on the prep work. Thus speaks the voice of 20 years of knitting experience…
Experience is what you get when you don't get what you want.  [Dan Stanford]