Table of contents for UFOlympics
UFOlympics: the eighth and ninth events
Yes, you may well have been questioning why there is a total of 12 UFO's on my UFOlympic "decathlon" list. (Actually, there are 13, because I had to add one UFO #0 that I forgot about when making the original list.) But it's a good thing.
Truthfully, I could probably do at least two decathlons with the stack of UFO projects I've got. And it was a good thing I had some extra UFO's on hand, because I got pretty well stuck on #5, the Rowan vest.
But even in the real Olympics, they allow "alternates" — so I did, too — and after 4 solid attempts on the rassin' frassin' vest, I stopped work on that and went to town on some other stuff.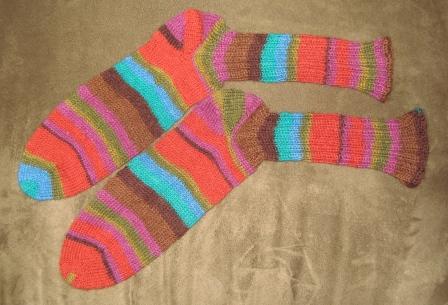 Originally, I wasn't going to include any socks in the UFOlympic decathlon, but last week I flew to Chicago for my annual family reunion weekend — and I realized, while packing late on Thursday night, that NONE of my original listed UFO's were plane-worthy. So, it came to pass that the Regia socks were "qualified" and added to the list as UFO #12, and finally got finished.
I did try a couple of things on these socks just for kicks. One is, I did short row heels, but instead of short-rowing "down" and then back "up", I short rowed "down", and then did it again. This was because in my exploration of short-row heel techniques, I found that often the "down" part of the heel looked way better than the "up" part.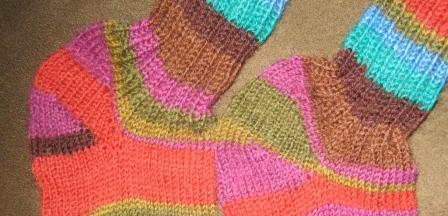 I had talked about doing this in a previous post, but I had to rip out that attempt because the feet of the socks were too short — so since I re-did the work, I'm re-posting the concept. I think it worked really well. Here is a closeup, although the poor little socks are still damp, and thus do not look quite as nice as they might if they were dry.
The other interesting thing I did was to try an attached I-cord bind-off on the tops of the socks. Since an "attached anything" bind-off is really just a more elaborate version of the nicely stretchy "decrease" bind-off:
** k2tog, replace this st on left needle **, repeat
I was curious as to (1) how an I-cord version would compare in stretchiness to the decrease bind-off and to a standard bind-off, and (2) how it would look.
Well, the results are a bit mixed. On purpose, mind you.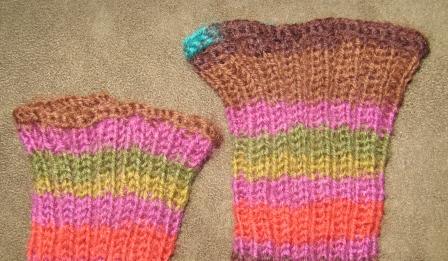 First of all, on the sock on the far right, I cast on 3 new sts for the I-cord; on the other sock, I only cast on 2 new sts. I think I prefer the look of the 2-st cord.
Basically, all this one ends up being is
** K1, K2tog, replace these 2 sts on left needle **, repeat
The bad news is, I don't find this to be any more or less stretchy than any other bind-off technique. So we're still looking for that particular magic bullet.
---
The other UFO that has been completed is #10, the Malizioso raglan sweater — which needed to be assessed for proper fit, and finished off. It was decided that it fit well — the cropped sleeves were an OK length — and thus the small amount of remaining yarn would be best used to finish off the sweater body and make it as long as possible.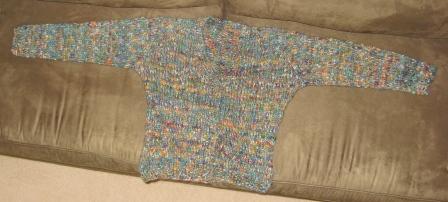 Which I did. Taaaa-daaaa!
And it looks pretty good, actually — although the fact that it's already 96 101 degrees here today means I'm not going to spend any length of time trying it on and getting a blog-worthy photo, so you'll have to take my word for it.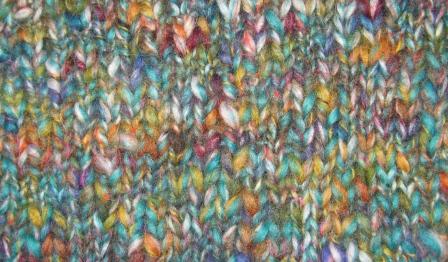 (On the other hand, the sweater is also still damp, so maybe it would feel pretty good. Hmmmm.)
I still love this yarn, even though I've had to rip this sweater out a couple of times by now, I think. Good thing I still love it, too, because it wasn't, um, inexpensive. It's called "Malizioso", and it's by Filatura di Crosa. I started with a bagful — 10 balls — and I now have about 1 yard left plus my gauge swatch.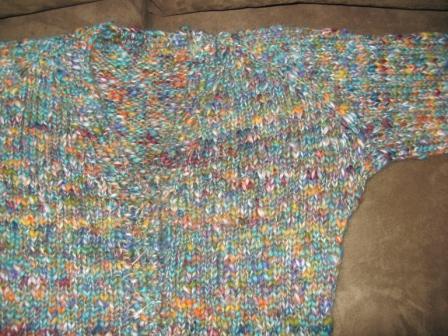 The pattern used here is a top-down, V-neck raglan concoction of my own "unvention", as they say.
I thought up this way clever idea for incorporating the neckband and front bands into the sweater as a single entity — then a short while later, I saw the same concept in a book of kids' sweaters. Oh, well, it's still a good idea. I did have a little trouble with calculating the proper size for the start of the neckband — hence the reknitting of the sweater — but in the end, it worked out nicely.
---
So, how goes the UFOlympics? With one week to go, here are the official standings:
0. Brioche st hat: shop sample for class.
1. Bear mittens: one left to finish, of the five I originally set out to do; then it's time to take 'em to the zoo.
2. Bunny slippers: slippers have been successfully felted; make ears, felt, attach, and add eyes and tails.
3. Glam rock vest: top-down vest in a really funky fur & eyelash yarn of somewhat questionable taste. It's looking like something Elton John might wear. Need to decide what to do with it. (OK, the action item here is probably more like, rip it out and give the yarn away, but I haven't quite gotten there yet. Give me time.)
4. Anny Blatt "Jonelle" tank: shorten armholes by removing a few rows from the top.
5. Rowan bulky vest: another top-down vest, though in much better taste; need to finish knitting and attaching the trim, install a zipper, maybe add a hood.
6. Silk sari / felted wool bag: bag is mostly knitted; need to figure out how to finish out the top; add handles, pockets, hardware, lining?
7. Wrap cardigan: finish out the sleeves and seed st trim.
8. Cabled bag: fish or cut bait; act accordingly.
9. Modular vest: fish or cut bait; act accordingly.
10. V neck raglan: decide whether it fits, or needs to be ripped out AGAIN; act accordingly.
11. Ribbed pullover: add I-cord reinforcement around neckline.
12. Regia socks: alternate selection.
Eight items done (or dispositioned)! Hey, I'm right up there with Michael Phelps!! (oh, if only that were true…)
Of course, UFO #2, the bunny slippers, is not strictly 100% completed, but it's on the downhill side — I still need to order the appropriate bunny eyes (please vote here if you haven't already!) and assemble the slippers.
But mentally I find I am considering those "done", since the knitting part (and the tricky part) is over. So that kinda-sorta makes nine items done. Is that fair? I guess I'll keep that card in reserve until I am forced to play it. We'll call it "strategy" rather than "cheating", shall we?
And believe it or not — even if you don't count the bunny slippers as a completed item, I'm right on schedule! According to the calendar page I marked up way back in the beginning of July, today I'm supposed to start on event #9.
I figure that fixing the ribbed pullover is a shoe-in, and then the wrap cardigan will be the next item to attack. But there's a lot of seed st trim to do on that, and with only one more week to go, the tension is mounting…
---