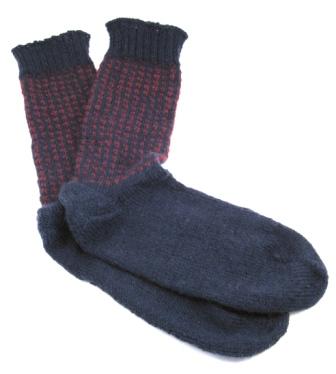 Today I have an actual FO to share and some "experience", free gratis. You know what experience is, right?
"Experience is what you get when you didn't get what you wanted."

~~ Dan Stanford
Ta-da! Here is the latest in socks for DH.
I was pretty against the idea of knitting plain navy blue socks — how boring can you get?? — so after looking at some choices, DH decided he wanted this two-color pattern, from a 1979 vintage mens' socks leaflet.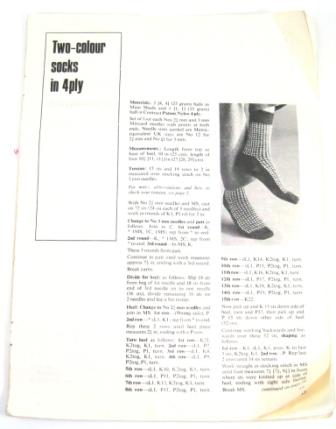 At first, I was pretty intrigued by the picture of these socks. How the heck did they do Fair Isle across just the top of the instep? Must be some clever, little-known technique, right?
Wrong. They actually knit the instep and the sole of the socks separately, and seamed them together along the sides of the foot.
I warned DH he wasn't going to get patterning across the top of the foot, unless he wanted those seams as well — he is a smart man and voted for plain foot, no seams.
The navy blue yarn is Paton's, the red yarn is Regia — both yarns were bought on the trip to New Zealand, and the combo was chosen by DH. Not too bad — actually, more handsome than I initially thought the color combination would be.
Unfortunately, as far as the actual knitting went, it turns out I would have been a lot happier with "boring", I think. For one, the colorwork slowed me down tremendously. I "threw" the red yarn and "picked" the navy, and those rounds of "knit 1 MC, 2 CC" nearly drove me bananas, they went so slow.
And it's not even like all that work was worth it. I should have known better. I said it myself years ago about a popular Socks that Rock pattern, and I'll say it again (with any luck, maybe I'll pay attention to myself this time) —
Fair Isle is simply a lousy technique to use for socks.
The basic, un-fix-able problem with using Fair Isle for socks is that it simply doesn't have the stretch of regular knitting. The yarn that is not in use is stranded to the back of the fabric, and prevents it from giving like regular knitted fabric — no matter how loose the stranding is. (Well, I suppose you could probably strand loosely enough if you took it to an extreme, but then I'm pretty sure your toes would get caught in those floats.)
So on these socks, while the leg is the same diameter as the foot (if the FI is properly done and it doesn't pull the fabric in) — it still doesn't stretch nearly as much as the foot fabric does. So these socks are a little tricky for DH to pull over his heels. I fear this may cause him to
(a) not wear them very often — either because they are hard to put on and take off, or because over the course of a day they will get too tight and uncomfortable;
or
(b) break a strand someday while donning or doffing them — and then it's goodbye, pair of socks. Even I am probably not going to attempt that repair.
In retrospect, what I should have done was increase enough sts for 1 or maybe 2 additional pattern repeats after finishing the heel, to make the leg a bit bigger than the foot of the sock. Oh, well. Live and learn. And since I'm personally not planning to ever knit another pair of Fair Isle socks again, you can have that little tidbit of now-useless insight for free. 🙂
However, maybe I could be persuaded to someday try out that pattern in knits and purls. Here are the details: worked over a multiple of 3 sts. "MS" is "Main Shade"; "C" is "Contrast".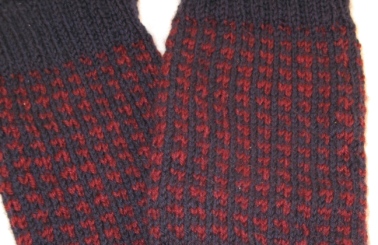 I worked these socks bottom-up, so my pattern is flipped, I suppose, compared to theirs. But a nice little repeat, easily memorized… just not worth doing in two colors, for socks.
I have to add in this little coincidence: I was well on my way through this project when I realized the vintage pattern leaflet is from Paton's — and I was actually using Paton's yarn! Well, the navy yarn, anyway. Their logo has changed a little bit from 1979 to 2009! So have sock knitting techniques — I mean, who on earth wants seams down the foot? But one thing hasn't changed — non-stretchy Fair Isle is STILL a poor choice for socks!