Table of contents for Provence Baby Cardigan
Provence Baby Cardigan, Part 1 – pattern, yarn substitution, design tweaks, size, gauge
Last week I wrote about how I was frustrated with not getting much actual knitting done, and why that has been the case.
So today, we put the money where the mouth is, so to speak, and I have a new "Playing Lessons" project to share with you!
---
Background:  My niece is expecting a baby this fall, as is Sheryl's daughter any minute now, and Rock Star's sis-in-law has twins on the way.  Those two have already started knitting scads of cute baby stuff, so I thought I'd jump on the train.  But in honor of last week's post about "just doing it", I challenged myself to do it the "normal" way — i.e. just pick a pattern and knit it.
Is this even possible for me?  Well, kind of.  We'll see…
As always, though, I start by checking the stash for suitable yarn and came up with…  nada.  Well, one largish ball of rather brightly-multi-colored unlabeled something, probably wool, but nothing I wanted to use for a gift.  So — no existing yarn-amount limitations to consider.  Check.
Next, time to pick a pattern.  Of course I turned to Ravelry, and my new Ravelry friend Anne, who has (1) very cute taste and, more importantly, (2) an excellent list of faves, selected with a professional knitter's eye.  This to me is an awesome resource, fully worth the proverbial bag of rubies or whatever.  She helped me find this little gem, from Classic Elite, and it's even a free download.  How great is that?
BUT — cute as it is, there are a couple of teeny issues with this pattern.
You knew there would be, right?  😉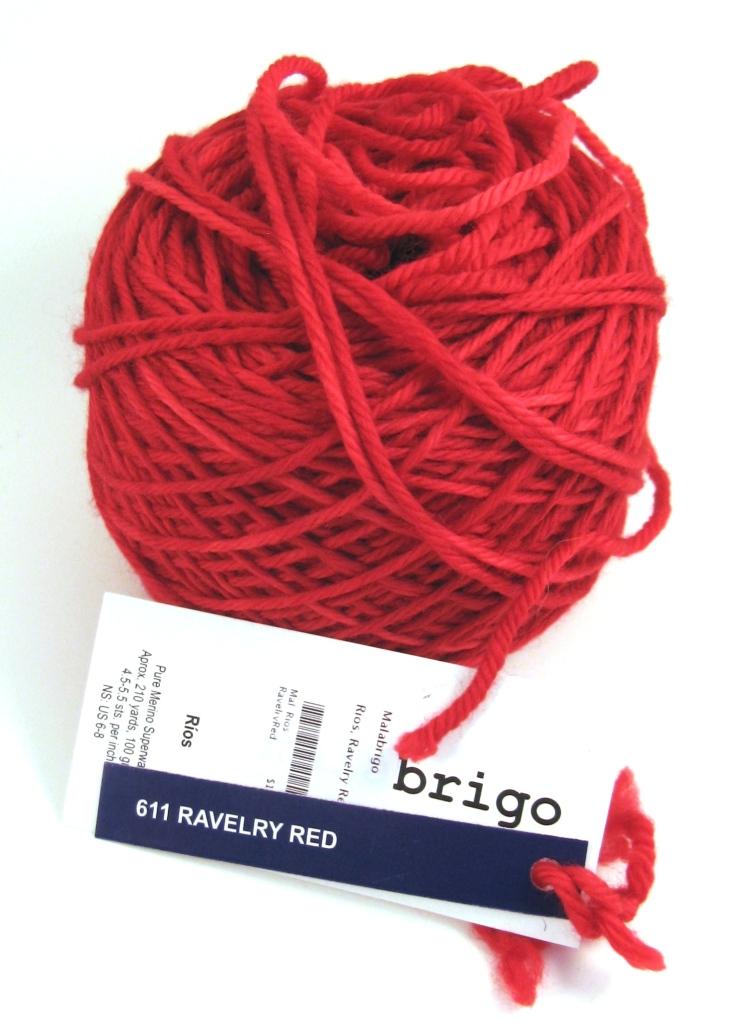 #1, it calls for cotton yarn.  Now, I believe I own a ball of that cotton yarn, and in that very pretty blue-green color — but as time goes by, I get more and more crotchety I become more and more convinced that cotton and knitting just don't play well together.  I've already made the mistake of knitting in cotton an adult-sized, cabled sweater that was designed for wool, and have the unfortunate, very heavy, results firmly etched in my mind.
However, wool and knitting is a match made in heaven — a beautiful blend of material properties and fabrication method, the materials scientist in me says — and it is generally perfectly reasonable to knit a project designed for cotton in wool.
But it is for a baby, so care requirements need to be taken into consideration.  Therefore I'm making change #1 – knit it in superwash wool instead of cotton.
And I need something that will knit up in a gauge close to 5.5 sts per inch, if I'm going to use this pattern's numbers.  My yarn choice ends up being Malabrigo's Rios, 100% superwash merino, in Ravelry Red.  I am loving this chipper, cheery red color and I think it will be wonderful for a baby.  (And is it just me, or is this not exactly the same color as a Coke can?  No wonder I love it.)
ETA:  I failed to mention here how many skeins — going by the yardage in the original pattern, I bought three.  I now have the 20-20 hindsight of a finished project, so thought I'd add it to this post, that I ended up using somewhat less than two skeins total.

And it *is* exactly the color of a Coke can.  I checked.  😀
---
#2, this baby cardigan has a lovely little lace pattern on the front.  In fact, this is actual lace — which Barbara Walker defines as a stitch pattern that includes YO's on every row — in other words, no plain rows, and the use of P2tog and SSP decreases.  That's not a problem for me, although it probably does explain why this pattern is marked as "intermediate" skill level.
However, it doesn't look like quite enough lace to me.  After all, if you're going to the trouble of doing a little bit of lace, why not do a little bit more so it shows up nicely?  So I'm going to make change #2 — add a second repeat of the lace pattern to each side of the front, and make one column 3 repeats tall, and the other column 5 repeats tall.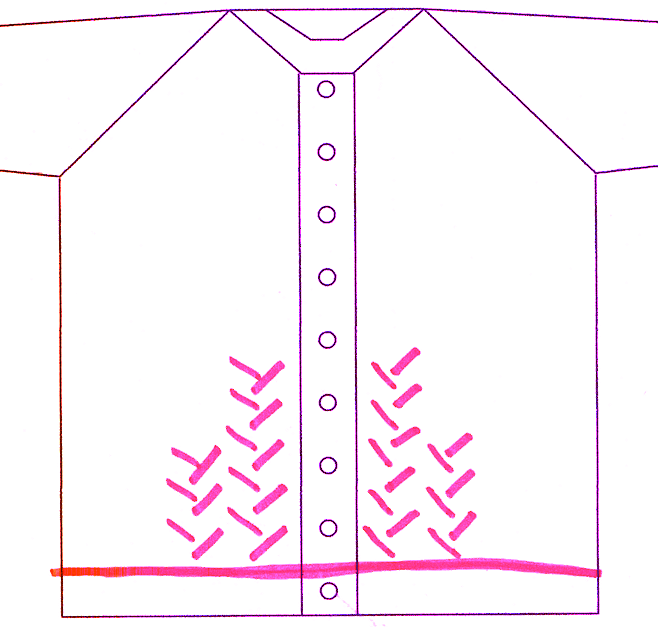 #3, there is another little problem with the lace pattern.  The designer did not change the chart for each side, so the stitch pattern does not come out as a mirror image for the left and right fronts.  That bothers me, because it looks kind of like a mistake once you notice it — in fact, it looks like the kind of mistake a great-aunt with an unfortunate penchant for knitting might make in her dotage.  I'm not having any niece of mine wonder if I'm going off the rails already.
Plus, it's usually a very simple, easy fix for this kind of motif, which repeats to the left and right across a central "spine".
The way to get a mirror image of this kind of stitch pattern is to simply start the chart halfway through!
A quick look at the lace chart confirms that this simple tweak will work.  So, we have change #3 — make the left and right fronts a correct mirror image by changing where we start the chart on one of the fronts.  Those two changes will get us something that looks like this sketch, and I feel much less demented like it better already.
---
Another minor change #4 is that I'm going to knit the bottom part of the body all in one piece and eliminate the side seams, but that's mainly just personal preference.  Side seams can sometimes add stability to a larger sweater, but this is a small baby sweater and it's wool, so stability is not an issue — and I'd rather knit than seam.
Finally, I'm going to choose a size that is bigger than newborn, because I want this sweater to be wearable for a longer time period than newborn sizes usually last.  To that end, I like to aim for about a 1-year size.  The second size given says 9-12 months, but I'm probably going to get a slightly larger gauge than the 5.5 sts per inch they call for, so my garment will probably come out a little bit bigger.  But hey!  no worries about getting the exact gauge here!  As long as I am close — and err on the side of bigger stitches — I can be pretty confident that the garment will, at some point in time, fit any given baby.
So, I'm going to use the second set of numbers in the pattern.  Knowing that I am a loose-ish knitter, I'm going to choose size 5 needles and just — CAST ON!