Hey, I'm back from a week's vacation — didja miss me?
Part of the trip was spent in Washington, DC, where I found this on the building of the Department of Agriculture: closest thing to a sheep I saw the whole time we were there!
I did get one UFO finished during the trip, but I will save that for another post, because it's got quite a story behind it. Stay tuned.
Another person who recently went traveling was my pal Rock Star, who brought me back something from California: an amazing piece of knitting sheet music!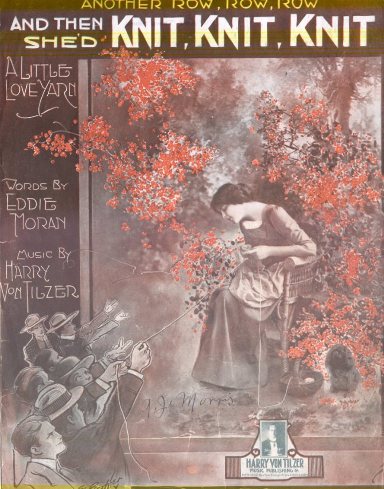 (I did my best to scan it in sections and "stitch" it together, but unfortunately my $5 garage sale scanner still puts those yellow lines on things sometimes. Oh, well.)
It says it was written in part by Harry Von Tilzer, who according to Wikipedia was a very popular US songwriter.
Harry Von Tilzer's hits included "Only a Bird in a Gilded Cage", "Cubanola Glide", "Wait 'Til The Sun Shines Nellie", "Old King Tut", "All Alone", "Mariutch", "I Love My Wife, But Oh You Kid!", "They Always Pick On Me", "I Want A Girl Just Like The Girl Who Married Dear Old Dad", "And The Green Grass Grew All Around" and many others.

The copyright date is MCMXVII, or 1917: I can just about hear it coming over an old-timey radio with crackly reception, and sung by something like a barbershop quartet.
At first I assumed this song was written as part of the war effort — although I found out it's not exactly about encouraging knitters to produce FO's for soldiers! And it turns out that Mr. Von Tilzer also wrote one called "Under the Anheuser Bush", har har — so perhaps that explains a little bit about his outlook on life.
(It's a little light on punctuation, but I present it here as it is written in the original.)
---
Verse 1
Pretty little Kitty's got the patriotic craze
Knitting scarfs for soldiers day and night
Silly little Billy now is spending all his days
Watching Kitty knit with all her might
She even knits when out in his canoe.
She knits while Billy tries to bill and coo.
Chorus 1
He'd take a hug
Then he'd hug her some more
While she'd knit knit knit knit knit
He'd steal a kiss
Then he'd take an encore
And she'd knit knit knit knit knit
Under a tree
He would rest with a smile
She'd lay her knitting down for a while
A bird in a nest
Said oh give us a rest
Go on and knit knit knit.
Verse 2
Pretty little Kitty said, now Willie do your bit
Here's some yarn and needles you can start
Come and sit beside me and I'll teach you how to knit
That's the way that you can win my heart
He'd knit a while and then he'd want to woo.
He'd look at her and drop a stitch or two.
Chorus 2
He'd take a hug
Then he'd hug her some more
She'd say knit knit knit knit knit
He'd steal a kiss
Then he'd take an encore
She'd say knit knit knit knit knit
One day a tug
Passed them by in a squall
Looking through glasses was captain and all
They both heard a yelp
Do you need any help?
And she said knit knit knit.