Table of contents for UFOlympics
UFOlympics! the fifth and sixth events
Well, it's nearly halfway through the timeframe I set for my personal UFOlympics. (In fact, it's only about 40% of the way through, if you don't count that "vacation" time I spent with strep.)
And while I've been waiting for you guys to decide what I'm supposed to do about the bunny eyes on the slippers, I haven't been sitting still. No sirree, Bob. No time to lose here in the UFOlympics.
Although I'll admit, what I did do is kinda-sorta cheating. I jumped ahead on the list, and decided to face reality and cut loose a couple more painfully lingering projects.
But hey - is it really cheating, considering I was sick and all?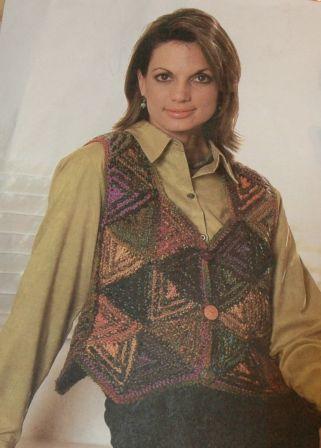 First up: we have said a final farewell to UFO #9, this modular vest, started goodness knows how long ago — my best guess is somewhere around 2004, as that is the publishing date for the book "Dazzling Knits", whence this pattern came.
Does anyone else find themselves shaking their heads over the fact that I can have things sitting around for FOUR SOLID YEARS?? I know I am. Does anyone think that will stop me from doing it again? No, I didn't think so either.
But about the vest. Once upon a time, I had made a fair bit of progress knitting it – I think I had most of a front done — and then I figured out that my color choices were, um, pretty bad.
Well, calling them "choices" implies that there was some kind of cohesive plan involved.
What I actually did was, I got together a whole bunch of skeins of Manos del Uruguay in colors that I liked, and then I just kept throwing a new color into the box every time I got stuck.
Fortunately, I eventually had the sense to ask an artist friend, Rock Star, what the heck was wrong. She helped me remove about 40% of the colors I had oh-so-carefully selected. (Oddly enough, most of the rejects went together quite nicely, and became a Fair isle hat. But that's another story.)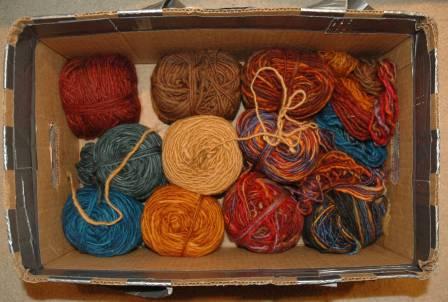 And, I believe the pale yellow was deemed to be too high-value at some point, so I over-dyed it with some strong tea to tone it down a bit. (In retrospect, looking at this collection of yarn, that part was actually pretty successful, I think.)
BTW, when I say "box", I mean it quite literally. By the time I was on my elebenty-somethingth skein of Manos, I started having to carry the whole project around in this: which is a special, custom-made, duct-taped box that some fellow knitters made for me, specifically to carry this project around in. I think maybe they were making fun of me, but it's quite a nice box, really. It has nice long duct tape handles so you can sling it over your shoulder — you can kinda see them at the top and bottom of this pic. And as you can also see, it's even got interior reinforcement.
Oh, yes, back to the vest. Well, the second time around, it appears that I got just about this far before becoming disenchanted.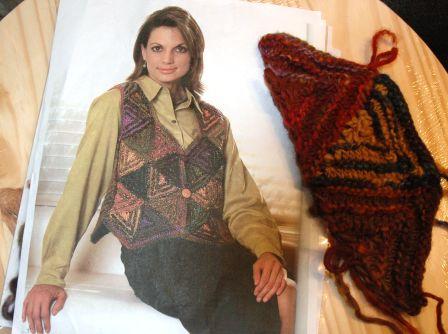 No, that's not a swatch in that picture. Yes, it is exactly three stinkin' triangles.
Not really a huge loss this time, in terms of hours of knitting abandoned.
And I must say, when I pulled this picture out of the project box, I just didn't even like the way it looked any more. It was never meant to be for myself — I originally intended this vest to be a gift for someone – but still, at the time, I thought it looked nice. Now I just don't even like it.
So — not a difficult choice to make. And now I have a whole bunch of pretty colors of Manos stuck back in the hutch, awaiting some kind of inspiration. It's in a bag, though – not a box. Although I haven't thrown out the box, either.
---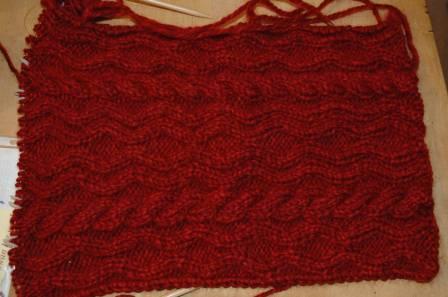 The other project I have now abandoned, UFO #8, was going to be a cabled knitted bag — which were oh-so-popular, what? two-three years ago, right?
At one time, I cooked up this set of interesting cables, and apparently started knitting like a house on fuego.
It's not a bad cable panel, in and of itself – although I do think I could have spaced the cables out a bit more. They are a bit dense.
Only problem is, I'm not a huge bag fan. (Boxes are a different story.) I carry most of my knitting projects around in re-purposed shopping bags, from either the Made in Oregon store, which happen to be green plastic; or the Knitting Bee, which are brown paper.
These two types of bags are about the right sizes for my average projects; they hold up pretty well over time — which I hope you are beginning to see is an important factor in my knitting life; and I can cheaply collect plenty of 'em to hold my many, many UFOs.
(Well, the ones from the Knitting Bee do usually cost a bit – but apparently, you get free yarn in 'em when you buy the paper bag.)
Finally, when I'm done re-using the shopping bags, I can throw 'em out (plastic) or recycle 'em (paper) with nary a twinge of conscience.
So, the only problem with this little project is — I DON'T WANT A CABLED KNITTED BAG.
I haven't ripped out the cable panel yet, because I'm toying with a couple of ideas. One is to felt it and see what happens. Another is to turn it into a pillow — it so happens that it would go pretty well with our home's color scheme of red, green and brown. A fleeting third idea was to try to turn it into some sort of garment, but I think that's probably a bad one. Or, I could simply reclaim the yarn and wait for a better idea to come along.
However, the cabled bag project is definitely history.
---
So — where do I stand, UFOlympics-wise?
I'm over halfway there! Brioche hat done, bear mittens done – glam rock vest, cabled bag, and modular vest all abandoned. That's five projects down. Plus I have the bunny slippers about 90% complete. And I've been working on UFO #4, which is almost taken care of too – so you'll probably see that in the next post.
And the calendar says I still have 25 days to go to the end of the Olympics.
But I have to say, the remaining UFO's on the list look like some tough ones…
---