Here's some eye candy for ya: a few FO's!
Sari Silk bag: this was knit from some recycled-sari silk yarn, although at this point I'm not sure exactly which manufacturer. This major FO accomplishment started life as "Unbiased", a bag pattern from Knitty, Fall 2004.
Unfortunately, mine was biased. When I sewed the pieces together, they did not hang very well. Discouraged, I took a look at the pattern on Ravelry (a few years later, to be sure) and found that not a lot of people were thrilled with the functionality of the finished product. That was enough for me — frog city. If a bag doesn't really hold things very well, not much use, then, is it?
Eventually, I cooked this one up myself. I can't say I recommend it to anyone else, though, because it was kind of a bear to knit. But here's how I did it:
2 strands Cascade 220 held together, about 120 g; size 13 needles.

CO 40 sts, work in garter st 24 rows. Pick up and knit 12 sts along short side, 40 sts along CO edge, 12 sts along other short side.

K 18 rounds (stockinette st).

Next round – cut one strand of yarn. **K1, YO** around.

Next round – K2tog all the way around while binding off at the same time.

Weave a strand of non-felting yarn through the eyelet holes and tie securely. Felt piece.

When dry, remove the non-felting yarn, and pick up and knit in the eyelet holes with silk yarn. Adjust number of sts after first round if necessary to get silk section the same width as felted section. Work in linen st forever, until bag is as tall as desired. Bind off.
Unfortunately, even though the bag was made of non-stretchy silk yarn in unyielding linen stitch (which is why it was SO DARNED FUN to knit) — it turned out that when anything was put in the bag, the knitted section stretched anyway, and the sides became kind of concave. What to do? Add a fabric lining. And glue that sucker directly to the knitting, to keep it from sagging out of shape.
I cut up an old shirt of my husband's and hemmed it with fusible web, because at this point I just didn't care any more. I was pretty well just finishing it to finish the damned thing. I fused the lining into a tube of the appropriate diameter, fused adhesive to the lining, and stuffed the lining inside to be fused to the knitting.
The final hurdle was this: how to keep the knitting stretched to just the proper width while doing the fusing?
Answer: I turned the whole thing inside out, and stuffed a pillow inside the bag. Sheer genius, if I say it myself. Having the cotton lining on the OUTSIDE while fusing kept the knitting from being stretched out too far by the pillow, and the pillow made an excellent surface upon which to wield the iron.
Finally, the straps are repurposed belt loop material I bought at SCRAP. I glued those on, too. Lazy, I guess.
To my own surprise, I use it often, and I've gotten a number of compliments on it!
---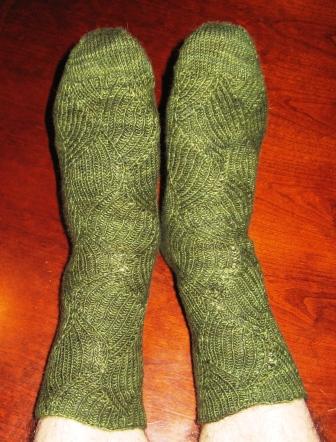 Believe it or not, I did get these bad boys finished, too. I proudly present DH's Flame Rib Socks.
There is a heckuva lot of history on these, which started out as a guilt project and turned into the Socks from Hell.
You will notice, I trust, that they are now 100% mirror images of each other.
I do think I found an error in the stitch pattern, though.
May Barbara Walker forgive me, I am convinced there are a couple of rows missing off the top of this chart. Fourth Treasury (the green one), page 188.
There are 18 rows in the first half of the chart, and only 14 in the second half. Yet the first half and second half are mirror images of each other, except for that rather significant difference.
I believe that additional rows 34 and 36 should be included as mirror images of rows 16 and 18. And that's the way I knitted these socks.
---
What? There's more? Oh, yes.
I don't think I managed to post this FO here, although it has been on display over at the Knitting Bee as a class sample for a couple of months now. This is a version of EZ's famous Ribwarmer vest, restyled.
In case anyone wonders, I put some real work into redesigning this vest — and anyone who's been here a while knows I don't use the term "design" lightly.
EZ's original directions are about two paragraphs long, and while I applaud her cleverness and the originality of the basic concept — the "style" factor just isn't there for me in some of the boxier designs. I particularly disliked the very squared-off armholes on the original — so I fixed 'em, along with a few other things.
The class material covers seven pages, and contains several improvements on the original. A couple of them were gleaned from other sources, and some of them are my own — including a schematic, step-by-step knitting instructions (including wrapped double short rows in garter stitch) and MULTIPLE SIZES.
This came out so nicely, I'm working on finishing up a seed stitch version in Manos, too. However, that one is still in the stack, so that's it for the FO's!
---
If anyone else is keeping score: the old UFO pile is down to THREE. Yup, only THREE. Will wonders never cease?
I did fall off the "no new projects until the UFO's are cleared out" wagon, and added a couple of new projects in the past few weeks — so in the stack I have two new projects, three old UFO's, and two projects that are "holding" (one is waiting for yarn). Not bad!