Ummm… I have good news, and bad news.
First, the good news: UFO #0, Brioche st hat: FINISHED 07/07/08.
Final time (offical Swiss, of course): 2 days.
The crowd goes wild!
Yarn: Manos del Uruguay silk & wool.
Pattern: my own Polar Bear Pattern.
Shameless plug: this is a sample for a class I'll teach at the Knitting Bee in Sept.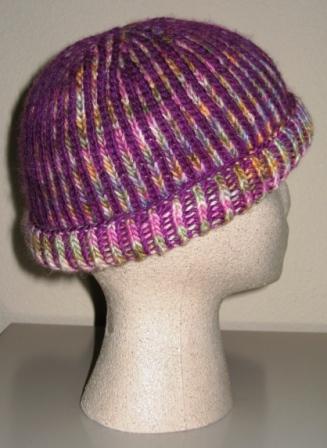 OK, the bad news:
#1: I probably should have gone down one more needle size on this hat. I tend to knit loosely, and overall the thing is just a bit on the big side. Not too bad, though.
#2 is worse: I found some inaccuracies in my pattern on the hat decreases. All the info is there, but it's not written properly to reflect the actual beginning and end of the rounds. In other words, I got the repeat between ** part messed up. So, it looks like I'll be adding a page of corrections under Polar Bear Patterns tomorrow.
How humbling. Not only because I try very hard to be accurate and not to make mistakes — but also because knitters haven't exactly been bombarding me with emails upon running into trouble with the decreases. I guess this means no one else has knit my hat? sniff, sniff.
Or, maybe that just means all those knitters are very, very smart!
---